THE LABORATORY & SCIENTIFIC PAGE
Below you will see our product collections in the laboratory and scientific category. Learn about our high quality glass products, time saving laboratory equipment, sterile filtration, pharmaceutical packaging and much more. We will guide you below to the product you need.
2mL - 100mL Glass Serum Vials.

We have vials ranging from 2ml Lyophilization vials to a number of different size 10ml vials, and all the way up to 50mL and 100mL vials. These vials come in clear and amber color to fit your laboratory needs. Our vials are manufactured to the highest quality standards and are equivalent to Kimble vials. The clear series of vials are clean, dust free, and shrink-wrapped to reduce particulate contamination. CanadianMedHealthSupplies vials are manufactured from low extractable borosilicate 3.3 glass that conforms to USP Type I and ASTM E 438 Type I, Class A requirements. This is the lightest, strongest, and most chemical and heat resistant lab glass available. More durable and lighter in weight than molded vials/bottles and their special design adds strength for freeze-drying applications.
20mm and 13mm Flip-Off Seals.

Seals are a crucial part of a vial system. Though Flip-Off Seals do not have direct product contact, the selection of an appropriate seal is critical to ensuring container closure integrity, drug protection, user convenience and safety. CanadianMedHealthSupplies flip-off seals come in sizes 20mm and 13mm. This refers to the neck size of your serum vial. Our flip off seals come in three different styles. flip-off (embordered) on the cap, Blank and Frosted top. Please see our collection to choose what style you like.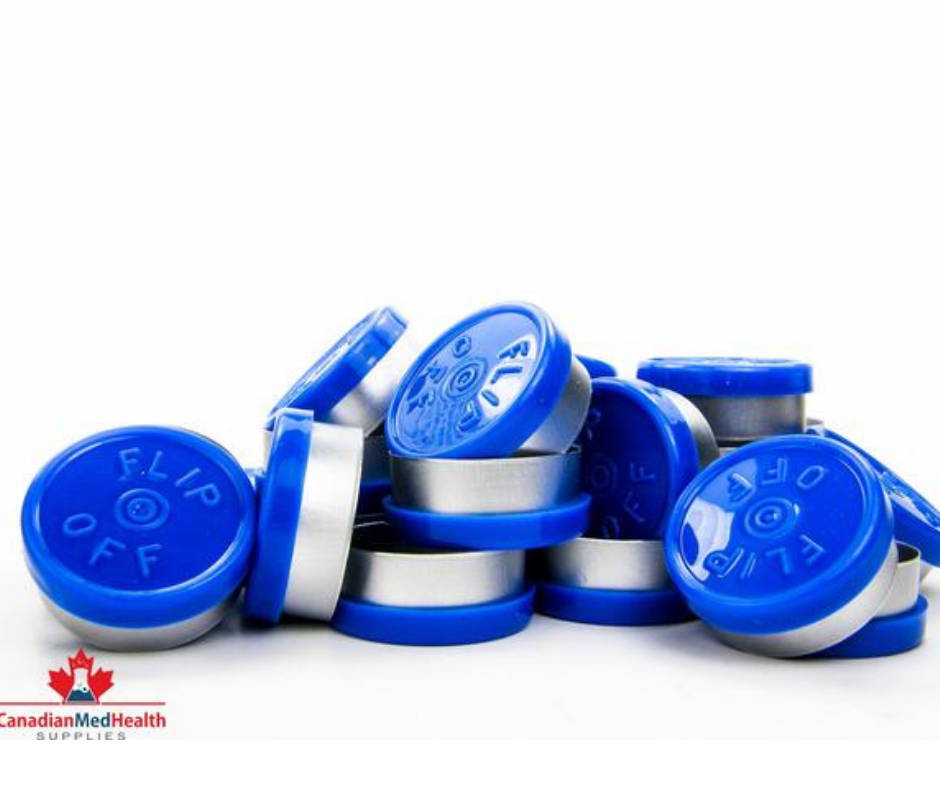 20mm & 13mm Butyl Rubber Stoppers.

CanadianMedHealthSupplies butyl rubber stoppers (straight plug style) used to seal 20 mm serum vials in combination with 20 mm flip top, flip off, and standard aluminum seals. Provides an airtight seal. These butyl rubber stoppers have been manufactured with high quality materials to withstand above average heat and be pliable to reduce the rubber stopper from fraying during drug extraction and contaminating the product within the serum vial. They come in 20mm grey and red butyl rubber stoppers, 13mm grey butyl rubber stoppers and 13mm butyl rubber stoppers and 2-prong lyophilization butyl rubber stoppers. Please view our collection to help you choose the stopper you need.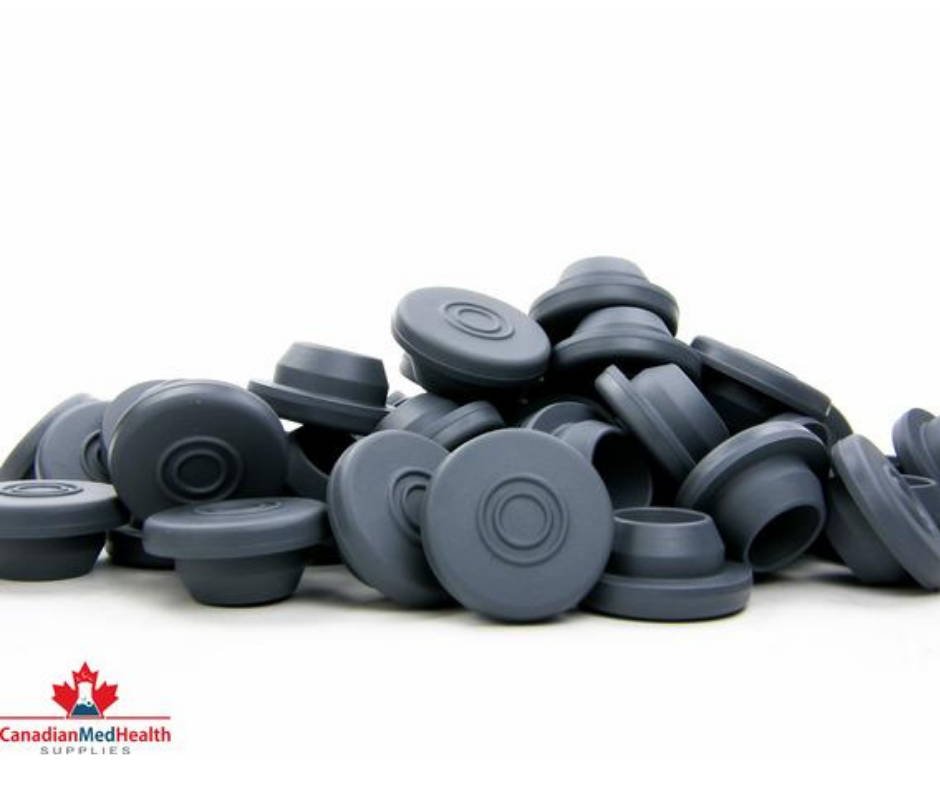 Plastic Pharmaceutical Pill Bottles.

Packer bottles, also known as pill bottles, vitamin bottles, or prescription bottles — are popular items seen on retail shelves everywhere. Featuring a convenient large opening, these pill bottles are designed to make filling or dispensing easy for nearly any application. Child-Proof or Regular Screw Caps are included in the purchase of these Packer Pill Bottles. The child-proof caps that come with these bottles are a government approved safe cap. Not only will this bottle and child proof cap keep your company adhering to government guidelines of approved child proof caps but there is now no need to worry about small children gaining access to the contents inside your bottle. You can choose from white and amber bottles with screw cap or child-proof cap.
CanadianMedHealthSupplies Glassware is reusable and manufactured from high quality, borosilicate 3.3 glass. This allows for very low coefficients of thermal expansion, making CanadianMedHealthSupplies glassware superior in resisting thermal shock (high temperature changes), verses standard lab glass. CanadianMedHealthSupplies glassware is also chemical resistance, and ideal for storage of reagents, culture media, biological fluids, as well as a variety of other aqueous and non-aqueous solutions. Our glassware consists of beakers with and without handles, Media bottles in multiple volumes and different Erlenmeyer Flask. Please view our collection to find the product you need for your laboratory application.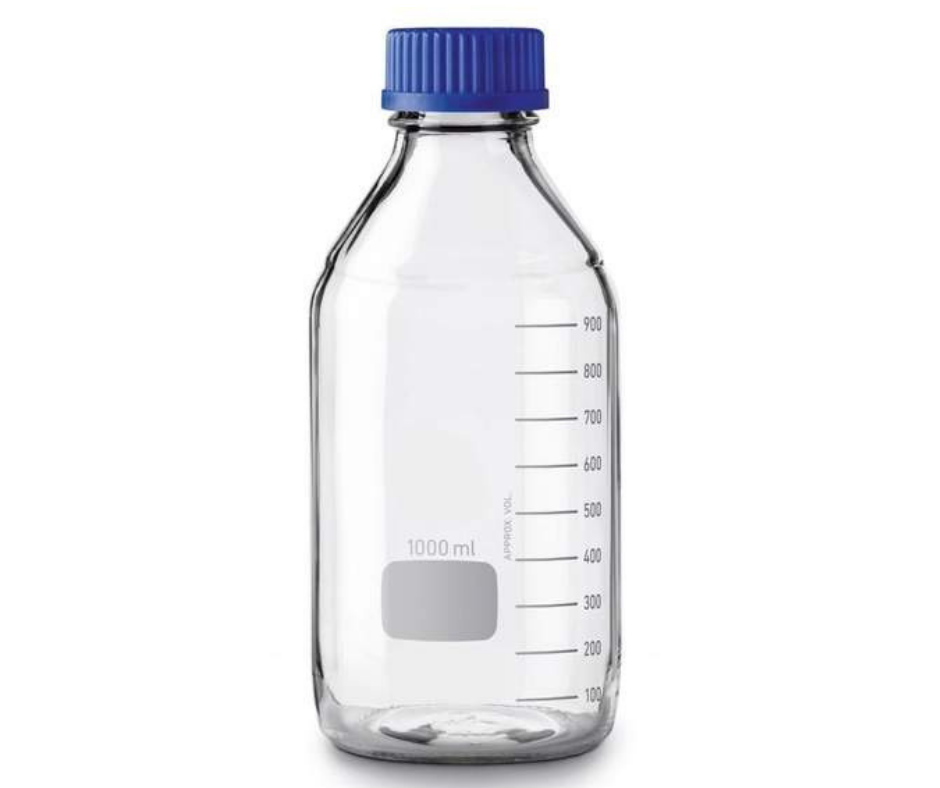 Our laboratory equipment collection has many items that will help you in time, efficiency and production. some of the products in this collection are automatic table top tablet counter, lyophilization freeze dryer, melting point apparatus, vacuum pumps for sterile filtration, magnetic stirrers and hotplates, and scales. Please explore this collection as there are many laboratory equipment that can help you save time and energy.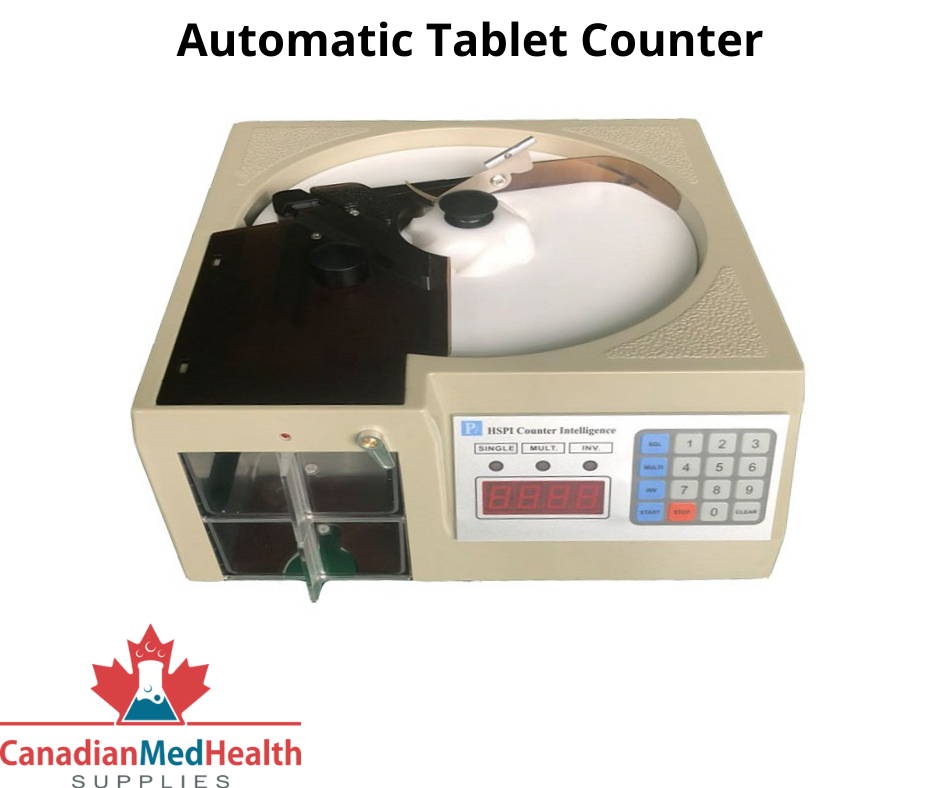 MCT Oil and Grapeseed Oil
The Medium Chain Triglyceride - MCT 60/40 Oil does not go solid at room temperature. This oil stays liquid and clear. It is highly stable and resistant to oxidation for use in ingestible products such as "bullet proof coffees" and CBD products, creams, lotions, and many other cosmetic preparations for skin and hair. Because it is chemically indifferent to other cosmetic ingredients, it acts as a viscosity regulator and assists in the dispersion of pigments and other additives. Further, it penetrates the skin readily, thus acting as a carrier for transdermal therapeutic ingredients.
Grapeseed Carrier Oil is cold pressed and refined to produce a light yellow green colored oil that is popular in cosmetic manufacturing. Grapeseed Oil functions as a skin conditioning agent – emollient, and a viscosity increasing agent and is the preferred carrier oils for many massage therapists because of its light, satin like finish.
Benzyl Benzoate & Benzyl Alcohol.

Benzyl Benzoate is both a synthetic and naturally occurring chemical used in today's market as a fragrance ingredient, artificial flavor, preservative, and solvent. It is also used as a scabies or lice treatment. It is an ester of benzyl alcohol and benzoic acid.
Benzyl Alcohol has been used as a solvent for inks, paints, lacquers, and epoxy resin coating. Benzyl Alcohol, along with Benzyl Benzoate are used in a wide variety of cosmetics and personal care products, including baby products, bath products, soap and detergents, makeup including: brushers and eye makeup, cleaning products and other hair, nail and skin products.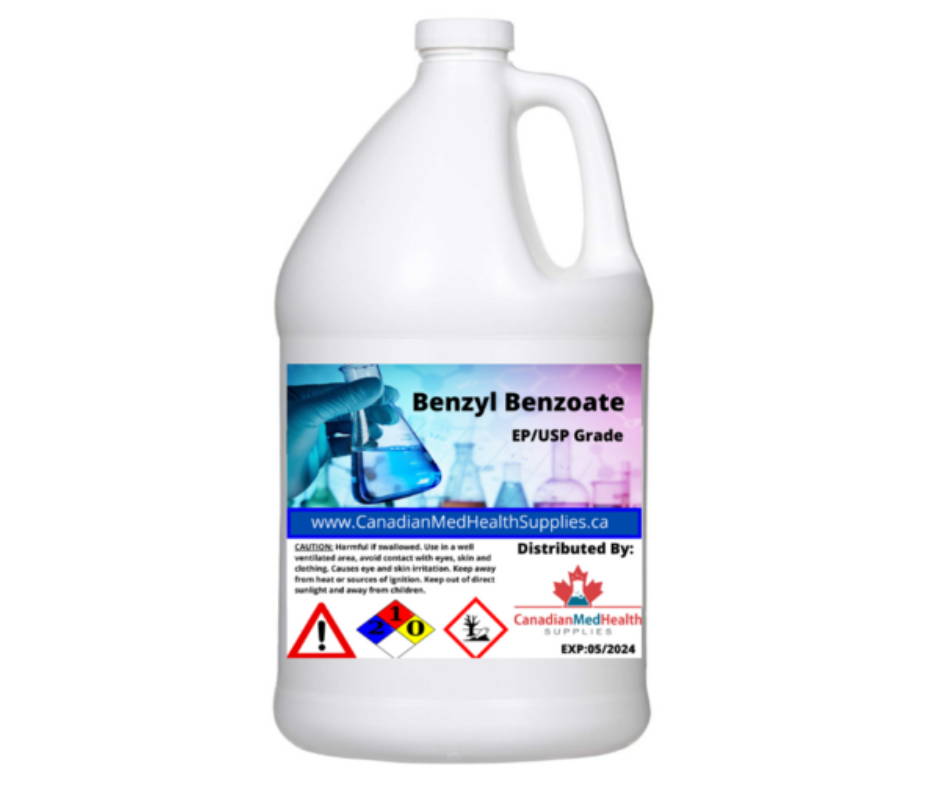 Sterile Filtration Products.

One of the products in this category is the Whatman Polycap AS (Aqueous Solution). Product recommended for filtering aqueous solutions. It combines a glass microfiber (GMF) prefilter and a Nylon membrane prolonging the life of the filter and allowing larger volumes and difficult samples to be filtered easily.
A second item is the multi-purpose, high quality compact tabletop vacuum pump. This pump makes vacuum filtration a breeze. Great for use in laboratory, classroom or shop use. The pressure gauge allows operation at an optimal vacuum. This pump can run multiple Bottle top vacuum filters at one time. With a handle on the top, a sleek compact design and very light weight, this tabletop vacuum pump is an excellent choice.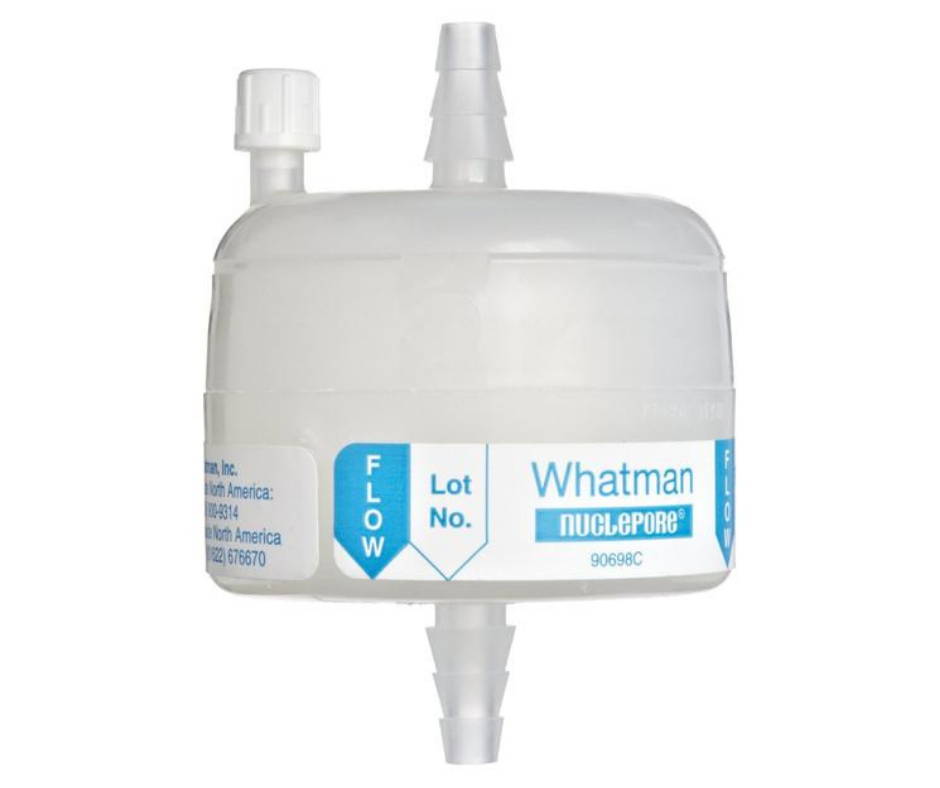 Excipients & Binders for Tablets and Capsules.

All in one tablet excipients binding agent - Removes the stress of researching and developing a formula that will produce desired results, saving you time and energy for exacting the final ingredients of your next formula. High flow-ability & strong bonding properties to produce effective tablets with a tablet press. Each excipient provides a unique benefits to your formula and ensures that you can process smoothly.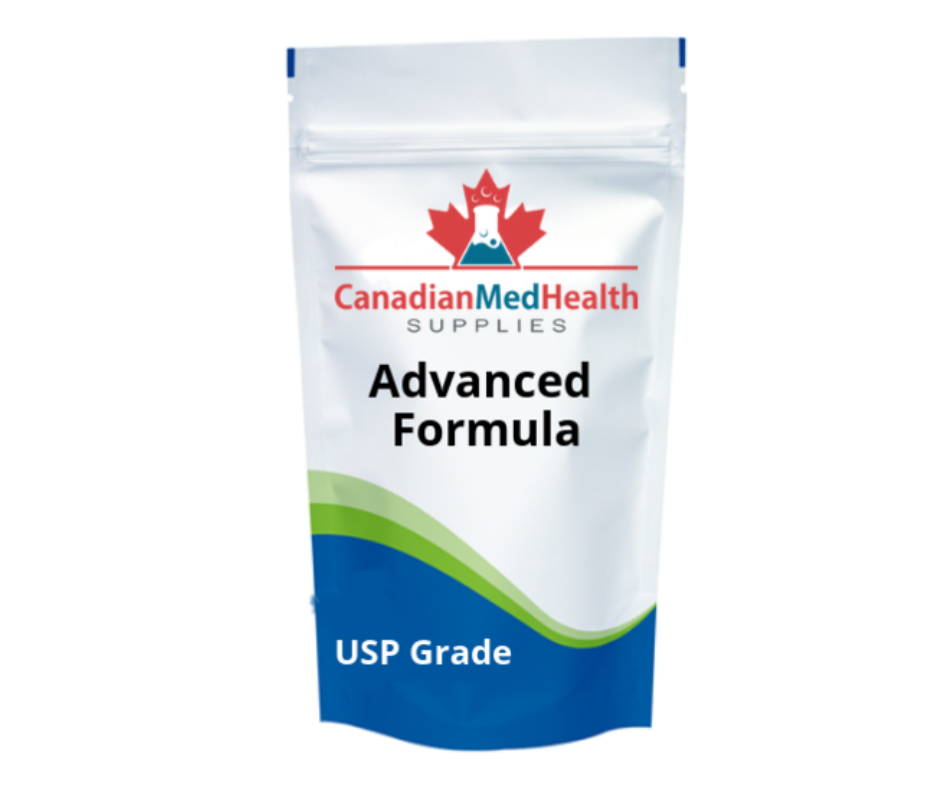 Have any questions? We've got the answers.